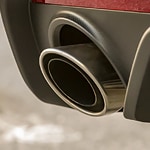 One of the world's most popular sports cars has once again created a benchmark for automotive performance. The Ford Mustang includes the latest performance technology to provide all the power that drivers have come to expect from this iconic model.
The Ford Mustang has a Quiet Start feature that allows you to minimize the volume in the morning hours. You can switch to Track mode at other times and let the sound of the Mustang rumble. Integrated launch control improves the ability of the Mustang to achieve speed. The V8 supercharged 5.2L engine is available on the Ford Mustang, and it is the most powerful street-legal engine ever designed by the engineers at Ford.
We want to extend a warm invitation for you to visit us here at our dealership in Yuma, AZ where you can test drive a new Ford Mustang. Come and see for yourself the performance features of this American sports car.