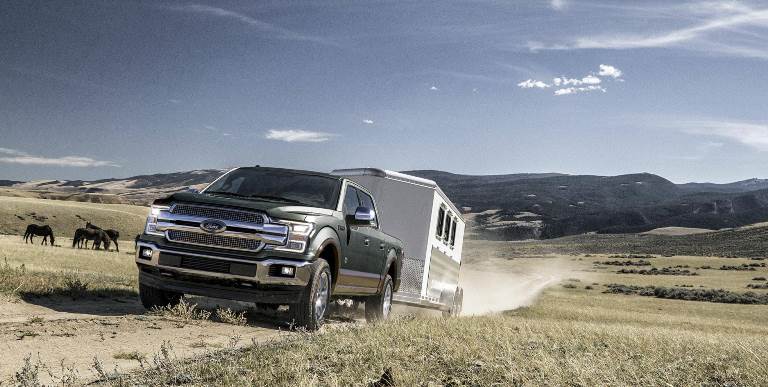 If you are interested in buying a car from your Sonora, AZ Ford dealership that can carry an RV or trailer for your next road trip but are new to towing, this is a great resource on how to safely tow items. You can tow like a pro with instructions from Bill Alexander Ford Lincoln. Get ready to hitch up your Ford car and to take on the open road. By being prepared, you will have a stress-free towing experience.
Check out the 2019 Ford RV and Trailer Towing Guide. This document provides the maximum trailing towing capabilities based on the engine choice from cars such as Ford Mustang, SUVs like the Ford Expedition, and trucks that include the Ford F-150. If your vehicle is new, please make sure to drive at least 1,000 miles before towing a trailer.
Before you drive, look over the weight capacity to ensure that your fully-loaded vehicle, including all passengers, does not exceed the recommended weight limit. Safety chains need to be used at all times to maintain the connection between the towing and the towed vehicle in the event that the trailing coupling or ball ever separates. A key component to safe towing is distributing the weight properly by 60 percent of the cargo weight in the front half of the trailer, and 40 percent in the rear. Keep in mind that you will also need more distance when stopping and exercise caution when merging or passing other vehicles.
Our dealership has a variety of cars with the strength to carry heavy loads. The 2018 Ford Expedition, a full-size SUV, tows up to 6,600 pounds. If you are looking for even more towing capacity, you can upgrade to the Heavy-Duty Trailer Tow Package and get 9,300 pounds. If a truck is more your type of car, the 2018 Ford F-150 has the best-in-class towing with 11,600 pounds when properly equipped.
Discover even more models that can haul some serious cargo by visiting your nearest Ford dealership. We are located on 801 E 32nd Street in Yuma, AZ. If you have any questions about towing, do not hesitate to contact us.